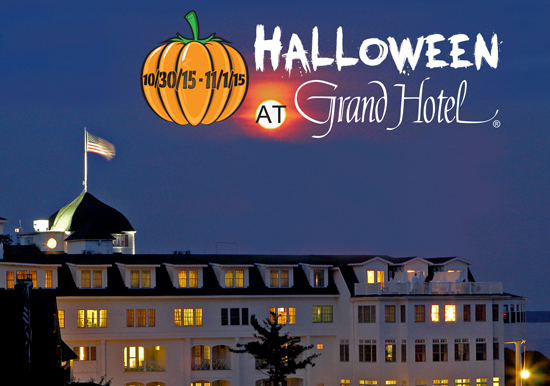 We are excited to announce Halloween Weekend at Grand Hotel is returning in 2020!
In 2015 it was a spooktacular Grand time and you will not want to miss this unique opportunity to experience it again. The ghoulish excitement will begin Friday evening at the Welcome Reception followed by dinner in the Main Dining Room. After dinner make your way through the Haunted Trail to The Gate House party for the Halloween Kick-off Bash, or stay at the hotel for a scary movie.
Saturday morning wake up to breakfast in the Main Dining Room followed by fun activities all day! Finish the evening in your costume with dinner in the Main Dining Room followed by a Grand Halloween Ball and Costume Party with a special guest performer Delilah and the Lost Boys! Wear your spookiest, silliest, or craziest costume to win our costume contest!
More fun and scary details are coming soon!
---
In the News
In 2015 Good Morning America rated Halloween Weekend at Grand Hotel as a Top U.S. Hotel hosting an Awesome Halloween Event!
Stay an additional night Thursday, October 29 for $199* per room, per night or stay Sunday, November 1 at the Close the Grand package rate. For guests staying Thursday evening, there will be a scary movie shown in the Theatre and the haunted trail will be open Thursday evening.
Make your reservation online or call 1-800-334-7263 for availability.
Package Includes:
Accommodations
Full breakfast and dinner daily*
Friday evening Welcome Reception*
Friday night Haunted Trail
Friday night party at The Gate House
Friday night movie in the Theatre
Saturday activities
Saturday evening Halloween Ball and Costume Party
No tipping within Grand Hotel
*The Grand Hotel dress code applies for the Friday evening Welcome Reception and Friday evening dinner in the Main Dining Room. Guests dining on Saturday evening in the Main Dining Room are welcome to wear their Halloween costumes.
Subject to Michigan 6% sales tax, 3% Mackinac Island assessment and a $8.50 per person baggage handling charge. *Dates subject to availability. Additional adult and children's rates apply.
<>
Halloween Weekend
Arrive: Friday, October 30, 2020
Depart: Sunday, November 1, 2020
Package Price:
Standard Room:
$1,555 per couple, $1,455 single
Lakeview:
$1,855 per couple, $1,755 single
Additional Adult $339
<>
Visit Grand Hotel Website >>>>
<>