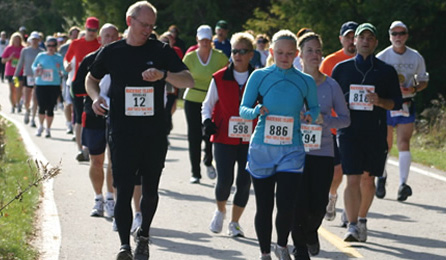 End your Summer with the Mackinac 8 Mile Road Race
Join us for the 50th anniversary of this exciting, summer-ending event. You will experience Mackinac Island in one of the oldest and most scenic races in Michigan. The Island is a unique destination that can only be reached by ferry. Step back in time to a bygone era where travel is done by foot, bicycle, carriage or horse. With almost 2,000 runners and walkers plus the 50th year highlights, this is definitely a race you and your family will never forget!
Location
The 8 Mile Run & Walk will start directly in front of the Mission Point Resort. The Finish Line is located along along the Lakeshore Trail on the lakefront lawn (Great Lawn) of Mission Point Resort.
Starting Times
8 Mile Run & Walk will start at 9:30 AM
Please line up according to your pace with the faster runners at the front and walkers the last to start.
Kids Fun Run will begin at approximately 11:45 AM Children should gather at the Gazebo on Mission Point's Lawn for fun exercise and instructions prior to the race.
<>
Visit Run Mackinac Website For More Information >>>>
<>