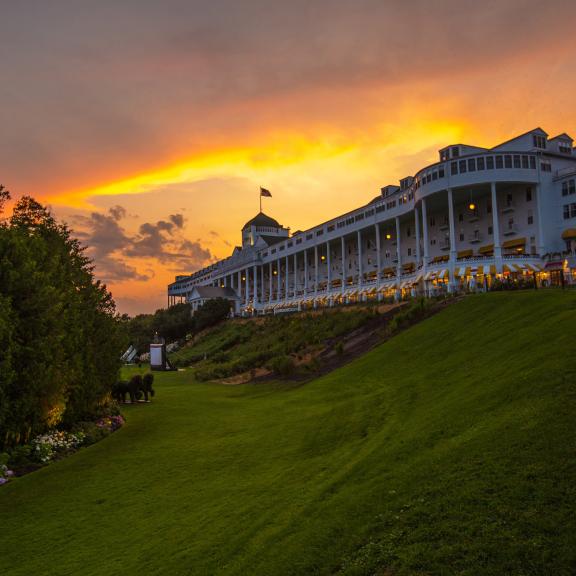 Arrive Friday, October 20 • Depart Sunday, October 22, 2023
Description
Consider yourself warned: Not everything is how it seems at Grand Hotel during Murder Mystery Weekend. Join us in October for an interactive weekend brought to you by The Murder Mystery Company, founded in Michigan. The intrigue begins Friday night and the crime is solved Sunday morning.
Murder Mystery Weekend Theme: Old Hollywood
The year is 1937 and you've been invited to the most smashing event of the year! A star-studded film premiere that all of Hollywood will be attending. Enjoy the glitz and glamour that only Old Hollywood and Grand Hotel can provide but beware that something more sinister lurks in the shadows. Somebody has revenge in their hearts and their mind on murder. You'll be immersed in a mystery that can only be solved by you and your team.
Don't miss out on Grand Hotel and The Murder Mystery Company's World Famous Murder Mystery Weekend.
Package Includes:
Grand Hotel Accommodations
Breakfast and dinner daily
All resort amenities
Friday evening Murder Mystery Welcome Reception
Murder Mystery activities and entertainment including interactive Crime Scene Investigations on Saturday afternoon and evening
Sunday morning "Who Done It" closing session
Special discount on ferry tickets
This Murder Mystery Weekend package is also available to book by calling Grand Hotel Reservations at 1-800-334-7263.
About the Murder Mystery Weekend
This invite comes from somebody with murder on their mind. Your invitation promises plenty of excitement and intrigue. However, beyond the glitz and glamor of this event lies something more sinister.
You and your party play the detective in this interactive game of mystery and murder behind the closed doors of Grand Hotel. Investigate the scene of the crime, interrogate suspects, and solve a murder. This one-of-a-kind event promises to be nothing short of a "Grand" ol' time.
Upon check-in, receive your first packet of information and clues. Friday is the kick-off performance, which sets the tone of events and when the first murder takes place. On Saturday, there is a brief gathering with the Detective, who explains the hunt for clues. (This also allows you some time on your own to enjoy the beauty of Mackinac Island and Grand Hotel.)
Come back on Saturday afternoon, when Act II is performed and another murder takes place. The evening concludes with three interactive mysteries, where guests in different groups will be rotated into the mystery experiences. Sunday morning the mystery is solved!
Watch "Grand Hotel Presents The Murder Mystery Company" Video
View Grand Hotel Policies and Information >>
*Subject to Michigan 6% sales tax, 3% Mackinac Island assessment, and a $12.00 per person, per stay, baggage-handling charge. Regular children's rates apply. Extra charges apply for additional adults over double occupancy rates. Dates are subject to availability. A 30-day cancellation policy applies.
<>
Visit Grand Hotel Website >>>>
<>
Grand Hotel On Facebook
Below are the latest postings from the Grand Hotel Page On Facebook.
<>
<>
Visit Grand Hotel Website >>>>
<>