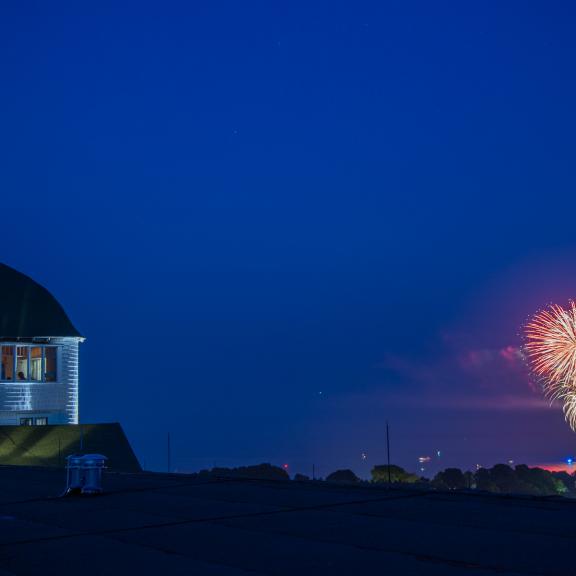 Arrive Sunday, July 2 • Depart Wednesday, July 5, 2023
Length of Stay Requirements and Pricing Details:
Three-night stays are required on July 2 – 5.
Description
Celebrate the 4th of July with family and friends, while exploring the best that a Mackinac Island summer has to offer. July is the perfect time to soak up the sun at the Esther Williams Swimming Pool, play lawn games in the Tea Garden, or take a bike ride and explore Travel + Leisure's #1 Island in the Continental U.S.
Package Includes:
Grand Hotel Accommodations
Breakfast and dinner daily
Evening movies with Esther
Evening Receptions on July 2nd and 3rd
Glow stick and cotton candy parties on July 2nd and 3rd at the Esther Williams Swimming Pool
Children's Carnival in the Tea Garden on July 3rd
Ice Cream Social on July 4th
American Picnic in the Tea Garden on July 4th
Grand Fourth of July Fireworks Display Viewing
Complimentary admission to the Richard and Jane Manoogian Mackinac Art Museum
Special discount on ferry tickets
The Old Fashioned Mackinac Fourth of July package is also available by calling Grand Hotel Reservations at 1-800-334-7263.
Additional July Fourth Package Details
Start off your weekend with evening movies with Esther on Friday and Saturday night. Experience two days of an exciting children's carnival full of games and prizes, small rides, face painting, blow-up bounce houses, and much more! On Sunday, enjoy a BBQ luncheon in the Tea Garden and on Monday cool off with our annual 4th of July Ice Cream Social. Celebrate the Fourth of July, with an evening American Picnic and Grand Fourth of July Fireworks Display, best seen from The World's Longest Front Porch!
With so many activities around Grand Hotel and Mackinac Island, there really is something for everyone of all ages to enjoy. We hope to see you for this Grand Fourth of July tradition!
See Pictures of Past July Fourth Events
View Grand Hotel Policies and Information >>
*Subject to Michigan 6% sales tax, 3% Mackinac Island assessment, and a $12.00 per person, per stay, baggage-handling charge. Regular children's rates apply. Extra charges apply for additional adults over double occupancy rates. Dates are subject to availability. A 30-day cancellation policy applies.
<>
Visit Grand Hotel Website >>>>
<>
Grand Hotel On Facebook
Below are the latest postings from the Grand Hotel Page On Facebook.
<>
<>
Visit Grand Hotel Website >>>>
<>