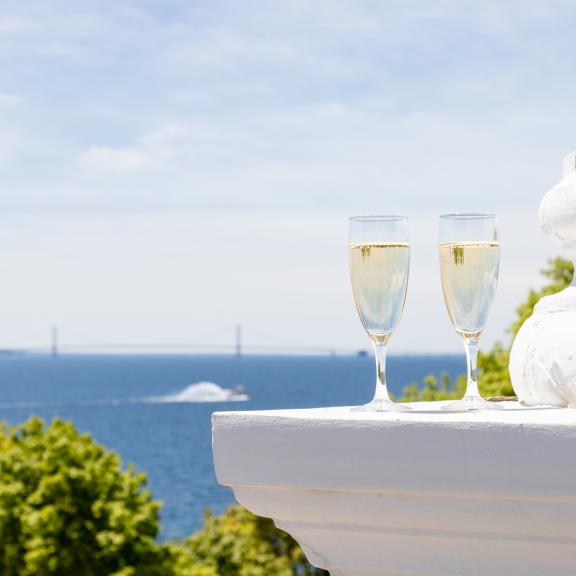 Arrive Friday, July 7 • Depart Sunday, July 9, 2023
Description
Please join Grand Hotel's Master Sommelier, Elizabeth Schweitzer, and a celebrated winery for this special wine tasting and hotel package: the Summer Wine Appreciation Weekend at Grand Hotel.
Carol Shelton: The Queen of Zinfandel
She is passionate, creative, and a force to be reckoned with. She is an iconic woman winemaker.
In 2000, she started her own winery. She has won Winemaker of the Year five times, has countless gold medals for her wines, and was named Pioneer Woman Winemaker of Sonoma County. Her Wild Thing Zinfandel was in the Wine Spectator's Top 100 wines.
Elizabeth Schweitzer, Master Sommelier at Grand Hotel
The eighth woman Sommelier in the world, Elizabeth enjoys sharing her vast knowledge every season with our guests during this special themed weekend. You can also find her in our Main Dining Room helping you choose the perfect wine during your meal every evening.
Learn More
Additionally, Grand Hotel's Salle à Manger was recently awarded an Award of Excellence by Wine Spectator for the third consecutive year. It recognizes Grand Hotel's well-chosen assortment of quality producers and list of choices that will satisfy discerning wine lovers
Package Includes:
Grand Hotel Accommodations
Breakfast and dinner daily
One welcome amenity per reservation
All Grand Hotel amenities
Friday evening Welcome Reception
Themed wine tastings
Special dinner event on Saturday evening, this dinner is for adults only
Complimentary admission to the Richard and Jane Manoogian Mackinac Art Museum
Special discount on ferry tickets
This Summer Wine Appreciation Weekend is also available by calling Grand Hotel Reservations at 1-800-334-7263.
View Grand Hotel Policies and Information >>
*Subject to Michigan 6% sales tax, 3% Mackinac Island assessment, and a $12.00 per person, per stay, baggage-handling charge. Regular children's rates apply. Extra charges apply for additional adults over double occupancy rates. Dates are subject to availability. A 30-day cancellation policy applies.
<>
Visit Grand Hotel Website >>>>
<>
<>
Visit Grand Hotel Website >>>>
<>