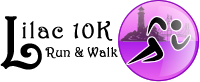 Join us on Saturday, June 4, 2022, to kick off the 74th Mackinac Island Lilac Festival with a great morning race to enjoy the early season beauty on the Island. The course will provide you with the tree-covered paved roads through the center of the Island, and tremendous lake views with the Mackinac Bridge on the horizon. This is certainly a race you don't want to miss!.
Lil' Lilac Kid's Race!
There will be a special event for young children starting at 11:15, at the school. Children will run on the lawn outside the school (either 150 or 300 yards, depending on age and ability), and receive a medal at the finish. Race registration fee is $10 and includes a shirt.
Race Start and Distance!
Location
The Lilac Festival Run & Walk will start in front of Wyndamere Park on Main Street and finish in the Mackinac Island School yard. (The start is 5 Minutes from the school, so please allow enough time).
The Lil' Lilac Kids Run will begin and end at the Mackinac Island Public School. Children will run either 150 or 300 yards on the lawn outside the school.
Starting Times
10K race start is 9:30 a.m.
Lil' Lilac Kids Run start is 11:15 a.m.
<>
Visit Lilac Festival Run & Walk Website >>>>
<>