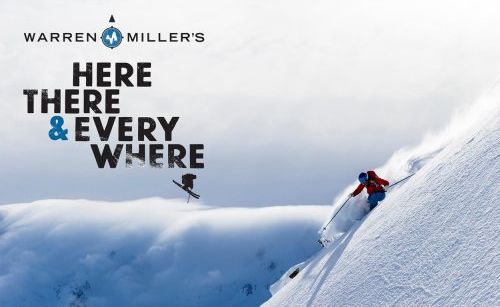 Warren Miller's Here There and Everywhere It's been 67 years since ski-film pioneer Warren Miller first picked up a camera to capture the wonder, adventure, humor, and beauty that is skiing. Since that time, Warren Miller film crews have traveled the globe -from storied slopes to hidden, snow-covered corners -to celebrate all things snowsports. Their quest has taken powder-hungry filmgoers, Here, There & Everywhere – and this year continues that legacy.
This fall, witness a freeform, freeski adventure in Warren Miller Entertainment's 67th snowsports film, Here, There & Everywhere. See JT Holmes, Jeremy Jones, Grette Eliassen, Collin Collins, Ingrid Backstrom, Tyler Ceccanti, Wendy Fisher and more as they sweep across the expanses of Alaska, Montana's Glacier Country, Deer Valley, Greenland, Switzerland and more in the pursuit of the perfect turns. This year, don't miss Warren Miller himself spin tales of the past as only Warren can do, reminding us that through the years, these films have truly taken audiences Here, There & Everywhere.
This stop on the 2016 Warren Miller tour is promoted by the Snow Country Ski Club, formerly the Ironwood Ski Devils, our local High School Ski Racing Team. The club is no longer funded by the school system. Parents of racers, racers and volunteers fundraise to help keep local youth skiers active, engaged, and competitive on the racing circuit that covers Upper and Lower Michigan and Northern Wisconsin. The club is very proud of its long track record and deep history. The local skiing community is strong and many of these long time skiers are Ski Devil Alumni. There are many fond memories of the ski devil travelling team, its successes and championships and its former long term Michigan Hall of Fame coach, Theron Peterson.
The Snow Country Ski Club partnered with us at the Theatre and with Warren Miller to bring this premier movie to our ski town. This is one of the very important fund raisers that help cover travel expenses, lift tickets, equipment maintenance, coaching, and more. So buy some tickets and bring a few friends to the movie and get your Stoke for Winter! Winter is coming!
Doors and Kelly's Bar open at 6:30 pm (CST). Here, There & Everywhere screens at 7:30 (CST), but come early, hang out with your ski crowd and dig into the latest gear on display by our local sponsors.
<>
Visit Ironwood Theatre Website >>>
<>
Historic Ironwood Theatre On Facebook
Below are the latest postings from the Ironwood Theatre Page On Facebook.
<>
This message is only visible to admins.
Problem displaying Facebook posts.
PPCA Error:
Due to Facebook API changes it is no longer possible to display a feed from a Facebook Page you are not an admin of. The Facebook feed below is not using a valid Access Token for this Facebook page and so has stopped updating.
<>
Visit Ironwood Theatre Facebook Page >>>
<>