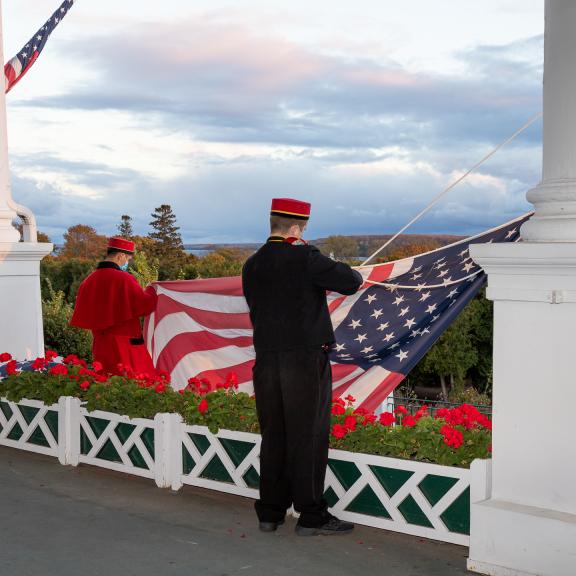 Available Sunday, October 29 – Depart Monday, October 30, 2023
Description
Something different, something time-honored: You're invited to join in the unique experience as we close Grand Hotel's doors for the winter months.
This package includes a casual dinner buffet on Sunday evening and a continental breakfast Monday morning. Enjoy an informal atmosphere as we clean out our pantries and wine cellar. Bob Tagatz, Resident Historian, will host a presentation explaining the process we go through to close the hotel, as well as fun facts and interesting information from the 2023 season. Monday morning we continue the tradition of ringing the bell to signify the end of our season, bringing in the rockers, and honor exemplary service with our Grand Legend Celebration. Take home a piece of Grand Hotel with a geranium from the Front Porch.
We look forward to you joining our staff in this annual end-of-the-year event that has become a tradition for so many.
Please note: Grand Hotel's standard dress code applies for Friday and Saturday. Casual dress is appropriate on Sunday and Monday.
Package Includes:
Grand Hotel Accommodations
Sunday afternoon Close the Grand presentation
Ceremonial Bring in the Rockers from The World's Longest Front Porch
Chef's choice casual buffet dinner Sunday evening
Continental breakfast Monday morning
Closing Bell Ringing
Take home a geranium from the Front Porch
Grand Legend Celebration
10:00 AM check-out time
The Close the Grand offer is also available by calling Grand Hotel Reservations at 1-800-334-7263.
View Grand Hotel Policies and Information >>
*Subject to Michigan 6% sales tax, 3% Mackinac Island assessment, and a $12.00 per person, per stay, baggage-handling charge. Regular children's rates apply. Extra charges apply for additional adults over double occupancy rates. Dates are subject to availability. A 30-day cancellation policy applies.
<>
Visit Grand Hotel Website >>>>
<>
<>
Grand Hotel – Close the Grand for the Season Photos on Facebook >>>
<>