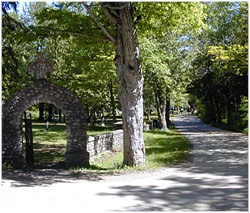 Registration for the 2017 Great Turtle Trail Run & 5.7 Mile Run/Walk is now open!
This year marks the 22nd running of one of the most scenic trail events in the state. We have a capacity of 3,500 participants running and walking the inside trails of Mackinac Island during the last open weekend of the season.
All who register will enjoy special race features – commemorative medals, a race apparel in Great Turtle fashion, special Halloween events for adults and kids, great end-of-season sales – plus the beauty of late fall on the Island.
2017 Mackinac Island Trio Series!
Register for all three races and you will receive a special Mackinac Island Trio Series medal. This will be a separate medal from the other finisher's medals you will receive at the completion of all three races, and will only be awarded following the Great Turtle Half Marathon. Registration for the 2017 Mackinac Island Trio Series is now open.
Special Rates at Mission Point Resort for the Trio Series!
MissionPoint is holding rooms for all three events at special rates – and if you call to reserve the rooms and tell them you are doing the Trio, you will receive a 10% discount. Call 800-833-7711 to get the 10% Trio discount.
FREE Race Photos!
This year we are offering FREE race photos to all of our participants. After the race, you can visit the Photos page and browse through all of the photos taken at the race. You will be able to download as many photos as you want for free!
<>
Visit Mackinac Island Great Turtle Website >>>>
<>
Mackinac Island Great Turtle Trail Run – Photos From Instagram
Here are the latest photos of the Mackinac Island Great Turtle Trail Run via instagram. If you have an instagram photo to share of your visit to a Mackinac Island Great Turtle Trail Run, tag it with #greatturtlerace and your photos will appear in the photo stream below.
<>
Visit Mackinac Island Great Turtle Trail Run Website >>>>
<>