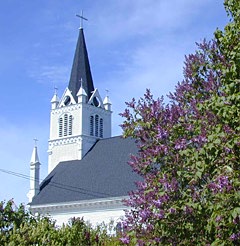 The Mackinac Island Lilac Festival is a 10-day celebration, June 4 through 13, 2021.
It's the first and largest summer event on the Island, attracting thousands of visitors. Festivities for the 73rd Annual Mackinac Island Lilac Festival include the coronation of the Lilac Festival Queen and Court, Lilac Festival 10K Run/Walk, horse drawn carriage tours, the Lilac Festival Grand Parade and much more.
More details to come! Be sure to check back with us!
<>
From Mackinac Island Tourism Bureau
We have made the difficult decision to cancel certain events during this year's Lilac Festival. The West Michigan Bootscooter's dance, Mackin-Paw Dog Day, and Grand Stationary Parade will not be taking place.
The Festival itself is not cancelled and we are optimistic and excited to still host the Lilac Festival Queen coronation, Lilac Festival poster contest, Michigan Cornhole, Lilac Book launch, and walking tours and planting sessions with lilac expert Jeff Young, as well as our Island businesses hosting their own events.
We also have some virtual events in the works so stay tuned for those!
The Lilac Festival page on our website has been updated with FAQ's and has more details of what you can expect: https://www.mackinacisland.org/2021-mackinac-island-lilac-festival/
Thank you for understanding and we are looking forward to a safe and successful event.
Mackinac Island Tourism Team
<>

Visit Mackinac Island Lilac Festival Website >>>>
<>
While you wait for the 2021 Lilac Festival, here's a view of some of the early summer flowers adding their color and beauty to the month of June on Mackinac Island.
Lilacs in bloom on Mackinac Island – Click photos for slideshow view.
<>

<>
Visit Mackinac Island Lilac Festival Website >>>>
<>