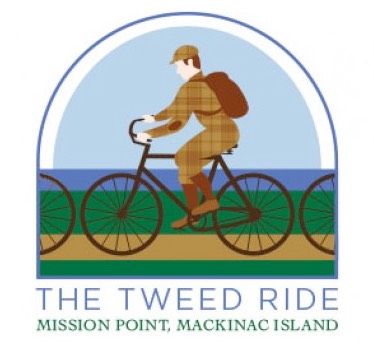 Mission Point Tweed Ride, a 'Lakeside Ride with a Bit of Style'
Celebrate National Bicycle Month and Mackinac Island's primary mode of transportation with the Mission Point Tweed Ride, a 'Lakeside Ride with a Bit of Style.
Antique bikes and vintage or traditional British cycling attire, particularly tweed are encouraged. Display your antique bicycle on Mission Point's spectacular lakefront lawn prior to the ride. Dubarry of Ireland, a Mission Point, Mackinac Island exclusive vendor will present awards for best bike and attire.
The two mile ride includes a parade through downtown historic Mackinac Island and a quick jaunt to beautiful Arch Rock in Mackinac Island Historic State Park. Following the ride cyclists and fans are invited to Mission Point's Round Island Bar and Grill for awards presented by Dubarry of Ireland.
The event is free and open to all. Bicycles can be rented onsite.
Mission Point Tweed Ride Lodging Package
A Tweed Ride Experience package is available for a two-night stay arriving on May 12th. Rates start at $139 per night (plus tax and resort fees) and include breakfast each morning, plus a complimentary bicycle rental for a half-day on Saturday afternoon to join in on the Second Annual Tweed Ride.
Reservations can be booked online or by calling Mission Point at 800-833-7711.
Package Includes:
Accommodations
Breakfast each morning in Round Island Bar & Grill
Half Day Bicycle Rental to participate in the Second Annual Tweed Ride
<>
Need Tweed? You can find Dubarry of Ireland at The Boutique at Mission Point.
Saturday, May 13
1:00 PM
The Lawn at Mission Point
<>
Visit Mission Point Resort Website >>>>
<>
Photos From Tweed Ride 2016
<>
Visit Mission Point Resort Website >>>>
<>
Mission Point Resort On Facebook
Below are the latest postings from the Mission Point Resort Page On Facebook.
<>
This message is only visible to admins.
Problem displaying Facebook posts.
PPCA Error:
Due to Facebook API changes it is no longer possible to display a feed from a Facebook Page you are not an admin of. The Facebook feed below is not using a valid Access Token for this Facebook page and so has stopped updating.
<>
Visit Mission Point Resort On Facebook >>>
<>