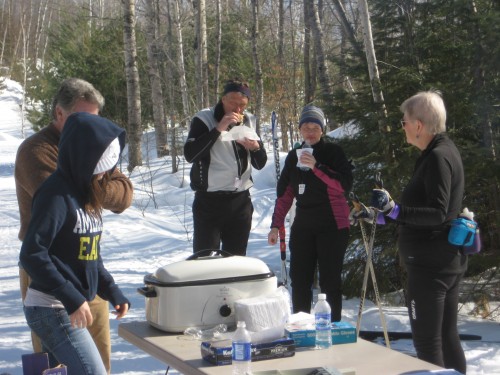 Ski along the ABR Ski Trails and sample our local cuisine and specialties at various stops along the trails.
All of our favorite vendors and restaurants attend.
We have 5 confirmed restaurants attending. Manny's, Ole Suffolk Ale House, Brewsters, Don and G-G's, Cold Iron Brewing.
There may be a few more last minute additions.
<>
<>
ABR Trails On Facebook
Below are the latest postings from the ABR Trails Page On Facebook.
<>
Monday March 26th, 2018 - 9:55 pm
Thanks for your continued support of our ski trails. We'll seeya next year! ... See MoreSee Less
See you next winter. I enjoyed my trips -- even if they are about 1,000 miles roundtrip.
Sitting by sauna wood pile Saturday
Thank you for all you do. See you when the snow flies again. Enjoy your summer.
Thanks for great season - the last weekend was fantastic!
Angela and Eric, it was a great season all because of your snow skills. I look forward to seeing you both next Winter. Have a wonderful Spring, Summer and Fall!
Thanks you! Hope to see you during the off season!
Wish we would have made it up there this year! Fingers crossed for next year!!
First time visitor this past Saturday. We loved it and we'll be back!!!
Thank you, Angela and Eric, and all employees, for all you do and how well you do it. See y'all later this year.
Around here we would think that's great skii g out there!
Thank you ABR for another season of great memories.
It's only March. Winter could come back tomorrow.
It's official, spring is here. When ABR closes, that's it for winter. Thanks for another glorious season of skiing!
Keeping fingers crossed for next season!!
Our trips to ABR were the highlights of our winter. Enjoy your richly deserved off season, Eric and Angela!
Load more
<>
Visit ABR Trails On Facebook >>>
<>