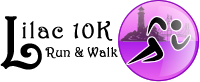 Register Today for the 2019 Lilac Festival 10K!
Join us on Saturday, June 8, 2019, to kick off the 70th Mackinac Island Lilac Festival with a great morning race. Over 1,100 participants joined us last year to enjoy the early season beauty on the Island. The course will provide you with beautiful sights of downtown, the tree-covered paved roads through the center of the Island, and tremendous lake views with the Mackinac Bridge on the horizon. This is certainly a race you don't want to miss!
2019 Mackinac Island Trio Series!
Register for all three races and you will receive a special Mackinac Island Trio Series medal. This will be a separate medal from the other finisher's medals you will receive at the completion of all three races, and will only be awarded following the Great Turtle Half Marathon. Registration for the 2019 Mackinac Island Trio Series is now open.
Special Rates at Mission Point Resort for the Trio Series!
MissionPoint is holding rooms for all three events at special rates – and if you call to reserve rooms for all three races and tell them you are doing the Trio, you will receive a 10% discount. Call 800-833-7711 to get the 10% Trio discount.
Free Downloadable Photos!
We will provide photos at no charge to race participants.
The 10K Run & Walk will start in front of Windemere Point (about 1/4 mile west of ferry docks) and finish in the Mackinac Island School yard (See map below.)
Starting Times
10K Run & Walk – 9:30 AM; Lil' Lilac Kids Race – 11:00 AM
<>
Visit Lilac 10K Run & Walk Website >>>>
<>